Contact us
: 0086-21-61182423
: 0086-21-61182425
: Room 301,Unit 6,lane 2500,xiupu Road,Kangqiao Industrial Area,Pudong New District,Shanghai
HOT sale top quality ASTM A516 GR70 pressure vessel steel plate
Posted:2018/1/15 2:02:34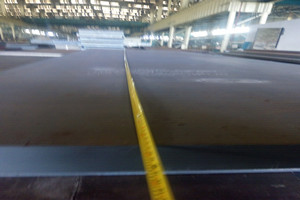 ASTM A516 GR70 pressure vessel steel plates are one of our fist products.Our A516GR70+Normalizing steel pates meet NACE-MR0175 technical requirements and get through HIC+SSC test. We are ASTM A516GR70N steel plates international leader in China.
ASTM A516Gr70N grade steel plates meet the requirements of (ASME SA516/SA516M) ASTMA516/A516M standard, and completely meet the needs of oil and gas with high sulfur and hydrogen content, reducing corrosion of sulfur and hydrogen, reducing equipment overhauling and increasing the service life of equipment. The ASTM A516GR70N pressure vessel steel plates are characterized by below features:
Low temperature deformation
Good welding performance
Good fatigue resistance
Good impact resistance
Good performance of anti -bedding
Microalloying
High purity
Low carbon equivalent
Strong ability to resist sulfur and hydrogen
Products have good dimensional tolerance and surface quality
At present, we supply ASTM A516GR70 vessel steel plates with thickness less than 200mm.We can offer you the ASTM A516GR70N vessel steel plates high quality, competitive price and fast delivery. please contact us, we will offer the best serives and ASTMA516GR70N vessel steel plates with reasonable price, the details of products in net are limited, further infos pls contact! Thanks a lot.More about ASTM A516GR70N vessel steel platesprice,Different A516GR70N vessel steel plates stock sizes and specifications of different prices,If you need A516GR70N vessel steel plates stock price,cotnact katalor now.
Copyright © 2018 by Shanghai Katalor Enterprises Co., Ltd. All rights reserved